Buying a water heater is no small task.  There are a lot of things to consider, and it can be difficult to know where to begin. In this article, you'll learn what to look for when buying a water heater, as well as some of the most popular options on the market today.
A water heater is a pretty simple device—it heats up water and keeps it hot until it's needed. But there are a lot of different types of water heaters out there, and they each have their own pros and cons.
When shopping for a new water heater, it's important to consider three main factors: price point, size/capacity, and efficiency level. These three things alone can help narrow down which models are right for your home without having to do much research at all—and they're all based on simple maths!
Here are some things to keep in mind when buying a new water heater:

Water Heater Size
The size of your home (and its bathrooms) will determine the size of the water heater you will need. For example, if your house has three bathrooms and they each have their own shower, then an electric model might be best since it will heat up faster than one powered by natural gas.
Another consideration is the number of people living in your house. Larger tanks hold more hot water, but they also take longer to heat up because they have more mass than smaller tanks.
Price
The cost of a water heater is typically one of the first considerations when buying a new unit. The average price of a gas water heater ranges from $600 to $1,200, and electric models can be as low as $350 or as high as $1,000. The price depends on the size and features you choose.
You may pay more for an energy-efficient model that meets Energy Star standards, but you'll save money on your utility bills over time. If you plan to install your new water heater yourself, you can save even more money by doing it yourself instead of hiring an installer.
The average life expectancy of a water heater is about 10 years. But if your current unit is more than 10 years old, replacing it now could save you money in the long run because older units are less efficient and more likely to break down sooner than newer ones are.
Efficiency
Water heaters are rated by their efficiency. The most common measures of efficiency are gallons per minute (GPM) and energy factor (EF). The higher the GPM rating, the more quickly the water will heat up. A higher EF means that less energy is wasted as heat loss outside of your home.
If you're looking for efficiency, look for the Energy Star label on the appliance. The Environmental Protection Agency (EPA) requires that all new gas or electric water heaters meet certain energy-efficiency standards.
Water Heater Types
There are three main types of water heaters: tankless, gas, and electric. Each type has its pros and cons. Here are the main types, plus a couple of additional options for those wanting an alternative.
Electric
Electric water heaters are generally less expensive than gas or oil models but require more electricity to operate. They also have lower energy efficiency ratings than other types of systems. Electric units are typically the least expensive option for small homes with one or two bathrooms.
Gas
Gas water heaters are an excellent choice for most people because they have a lot of advantages over other types of water heaters. They're usually more efficient than electric models, and they don't run out of power during cold weather as some electric models can. They also have a higher energy efficiency rating than electric models (meaning they use less energy to heat the same amount of water), so you could save money on your utility bills by choosing this type over an electric model.
Solar (an option for those with solar heating)
A solar water heater is an energy-efficient system that uses the sun's energy to heat water. Solar hot water panels collect rays from the sun and convert that sunlight into heat, which is then passed through the system to heat your household water. A solar water heater can be installed on both new and existing homes and can be used to supply hot water for showers, baths, dishwashers, washing machines, and more.
Tankless
Tankless water heaters provide hot water on demand through a process called "thermal storage" that heats up only as much as needed at any given moment. Since they don't store hot water as traditional storage tanks do, tankless systems can be more efficient than traditional models because they aren't wasting energy heating unused hot water.
Tankless systems are also very quiet compared to standard storage-tank models because there's no pump or fan inside them; you'll only hear a slight sound when the system cycles on and off during use.
Heat Pump (Hybrid) Water Heater
A hybrid water heater combines heat pump technology with a conventional tank to produce hot water on demand. This can save energy and money, compared to electric water heating. The most common type of hybrid is the heat pump water heater, but there are other types available. If you have a traditional tankless or solar system at home, you might want to consider adding a heat pump to combine savings from your existing setup with an efficient new one.
Comparing Gas, Electric, and Tankless Water Heaters
When it comes to utility costs, gas is usually cheaper to run. But that will depend on your gas supplier and the rate they charge. Gas water heaters come in both tank and tankless.
Electric water heaters are usually cheaper to buy because they don't have anything that needs to be connected, other than to the water supply and electrical writing. Utility costs will depend on your electric company and your rate per kWh.
Tankless water heaters are the most efficient at reducing energy costs as the water is not held in a tank where it is continually heated (even when not in use). Water is supplied "on-demand" and only heated as needed. This is a very cost-effective solution. Also, because tankless water heaters don't build up sediment as easily, they last nearly twice as long as traditional tank water heaters.
Top Brands of Water Heaters
When it comes to shopping for a new water heater, it pays to know which brands are the best. Some of these companies have been in the business of manufacturing energy-efficient appliances since the early 1900s.
Here is a short list of some of the best brands for energy efficiency:
Rheem
Reliance
American Standard
Bradford-White
Kenmore
Whirlpool Water Heaters
General Electric (GE)
A.O Smith
Eco Smart
Best Electric Water Heater
The RHEEM Performance 50 Gal. Electric Tank Water Heater is a great choice for small households or multi-bathroom homes, where space is at a premium. It comes with a 9-year tank and parts warranty. The RHEEM Performance 50 Gal. Electric Tank Water Heater is perfect for households with 3-5 people or homes with 3+ bathrooms. It delivers savings and efficiency and takes up less space than competitive models for easy installation. It works with SMART home technology so you can control it from anywhere using your smartphone.
Best Tankless Water Heater
Rheem Professional Classic Series: RTEX-24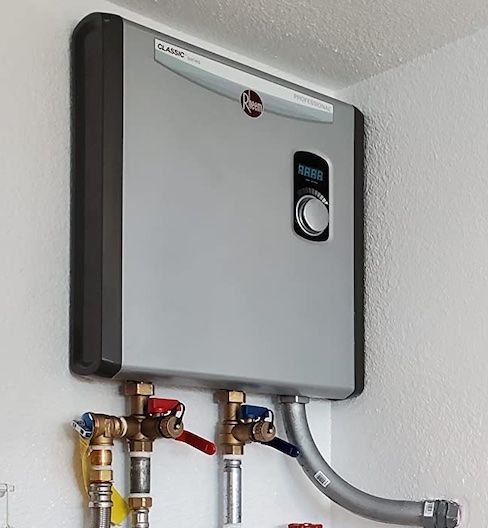 See Price
Rheem's RTEX-24  is a popular choice for households with 3 to 5 people that have a lot of hot water needs. It also has a small form-factor of roughly 1.5 feet by 1.5 feet and can fit snuggly into a corner and remain relatively unobtrusive in your home. And, with the simple turn of a dial, you can easily adjust the temperature of the unit from 80-140 degress and see the temperature on the external LED.
From a technical standpoint, it has simple installation with its 3/4" NPT connections at the bottom of the unit. It also has copper immersion elements that are used for heating, which is great for easily servicing the unit if need-be. It also has a max flow rate of 2.4 GPM (gallons per minute), plenty for a single family home.
It's an ENERGY STAR tank water heater, which means it scores high for efficiency and can save you up to $290 per year on your energy bills. It has a 5-year limited warranty on the tank and 1 year on parts, which is a good indicator of its build quality.
Best Gas Water Heater (Indoor)
Rinnai RUCS65iP (RUCS Model Series)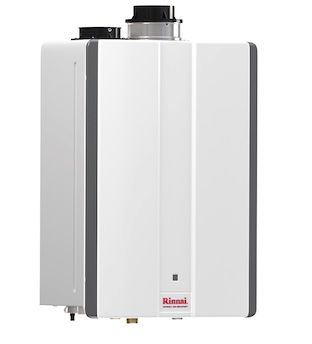 See Price
If you're looking for a propane gas water heater with a little extra capacity great efficiency, the Rinnai RUCS model series is the best way to go. This version has a 6.5 GPM flow rate, which is suitable for a large family. At 2.5 feet tall and 1.5 feet wide, it's slightly large than Rheem's RTEX 24, but it has a much greater capacity (nearly 3x the flow rate). This tank is also very easy to install with great instructions if you consider yourself a DIYer.
Rinnai also has wireless connectivity for easy control of the unit. With the app you can easily access information about your hot water heater such as warranties, technical specs, repair guides and manuals. You can also easily adjust the hot water temperature right from your phone or mobile device.
As a tankless water heater, this water heater is extremely energy efficient even compared to other tankless heaters.  Using this water heater will result in an energy savings of $345 per year. It also has a Ultra Low NOx rating, which means that it emits a very low amount of nitric oxides, which complies with current California regulations.
With its generous 12-year warranty, 5 years on parts and 1 year on labor, this Rinnai water heater is a tremendous buy.
Best Hybrid Water Heater
A.O. Smith Signature Electric Water Heater (50-Gallon)
The A.O. Smith Signature 50-Gallon Electric Water Heater with Hybrid Heat Pump is an Energy Star certified product that delivers plenty of hot water for households with 3-4 people—it's a great choice if you're looking to upgrade or replace your current electric water heater.
Because it's Energy Star certified, the heater uses at least 30% less energy than standard models, which adds up to savings of 3,000 dollars over 10 years. This model also has an easy-to-use electric interface, so you can set its thermostat according to your needs and monitor its performance at a glance.
The hybrid heat pump technology uses both electricity and natural gas to heat water, delivering optimum temperature levels while saving money on both heating costs and utility bills. Its quick recovery time means you won't have to wait long until you get more hot water out of it.
FAQ When Choosing a Water Heater
Q: What size water heater should I buy?
The industry standard for an average family is 40 gallons per day, but this can vary greatly depending on how many people live in the home and how often they use the hot water.
The general size recommendation for water heaters is:
● 2 to 4 people—36 to 46 gallons
● 3 to 5 people—46 to 56 gallons
● 5 or more people—80 gallons
Q: How long does it take water to heat?
The heating process varies depending on water heater size, the type of water heating system, and of course, the amount of hot water being used.
If you have a tankless heater that uses natural gas, then it will take about 15 minutes to heat up. If you're using a storage heater that uses gas or electricity, then it will take between 30 minutes and two hours to heat up.
Q: Best water heater for a large family?
That depends on the type of water heater, the fuel (gas or electric), and how many people use hot water in the home. Use the reference above and check out the "best" referenced models above for something that will suit your family's needs. All of the referenced brands are 50-gallon tanks for households of 3 - 5 people.
Q: What brand of water heater is the most reliable?
It is subjective. The best, most reliable water heater is the one that meets your needs on a routine basis. If you live in an area that loses power often, you may want something like a gas model or go with a solar heater for reliability during power outages.
Q: What is the best 40-gallon water heater?
Is this a tankless or a standard water heater? Are you looking for an electric or gas-powered one? Are you trying to replace an old unit, or are you installing a new one for the first time? Your answers to these questions will help narrow down your options.
A few good brands are Reliance, GE, American Standard, and Rheem—these companies have been around for years and have built their reputations on making quality products. Their units might come with warranties that cover parts and labor in case anything goes wrong while they're still under warranty.
If you're looking to buy a water heater, we hope this guide was helpful in walking you through the process of what to look for and what to expect. If there are any questions or concerns that still need answering, please feel free to reach out on our contact page.